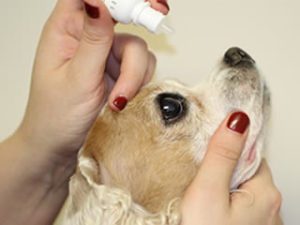 If you've ever been to an eye doctor or had contacts, you know about eye drops.  At first, they are a bit cold and tingly, but after awhile, you get used to them.  If your pet has had an eye problem, you've probably been asked to use eye drops or ointments.  The eye drops, obviously, are designed to treat the problem and make your pet feel better.  But actually getting the drops in?  Well, here's where it gets a little dicey.  Depending on your pet, instilling eye drops may resemble a military standoff, a hide-and-seek adventure or a chaotic mess.  It gets even harder once they catch on to your plan because they become experts at squinting, blinking right as the drop hits or contorting their bodies to prevent any drop-to-eye contact.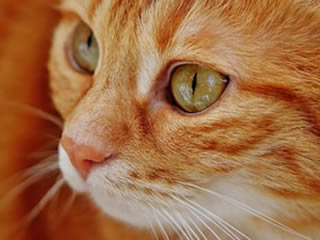 Cats come armed with claws and higher intelligence allowing them to know exactly when you are even thinking about eye drops then finely hone their escape tactics.  Dogs see the bottle and plot against it, using strength and other maneuvers to evade the drops.  If that doesn't work, they act as if you are causing them bodily harm, making you feel like the worst pet parent on the block.
The words "instill 1 drop into the right eye three times a day" aren't so simple, I realize.  But, eye drops truly don't have to be an evil punishment for your pet.  So, to help with household sanity, pet-person relationships and harmony all around, here are some tips to help you and your pet make eye medication administration a (relatively) painless process.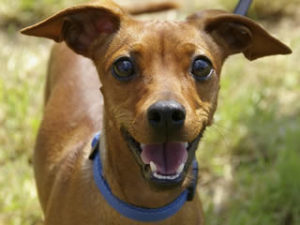 Approach your pet from behind with the eye drops instead of in front of them.Most pets' natural reaction is to back away from the drops. Standing behind dogs while they sit or placing small cats and dogs on your lap facing away from you will help keep them in a secure position.
Lift the chin of your pet up into the air while putting in the drops.   Hold the dropper bottle above them while bracing your hand on their forehead (as shown). This will give you stability and allow treatment of both eyes at the same time (if both eyes need medication). Wrapping kitties in a towel may help with this.
Place the drop in the upper eye on the white or pink part of the eye.  This area is less sensitive than the clear part of the eye and your pet is less likely to react to this. Brace your hand on the head and hold the forehead skin, which will expose the white/pink part of the eye.
Lots of rewards!It is very important to make eye drops a positive experience. Do this by immediately giving a small highly-motivating treat (e.g. peanut butter, cheese, small bits of hot dog) right after any eye drop. Because you may have a few eye drops to give, set aside a few small treats to give after each drop. It's important to give the treats right away along with lots of verbal praise. For kitties, you may reward them by petting or stroking them, giving them treats or feeding them tuna or canned cat food after eye drops. Always check with your veterinarian before giving treats to make sure they have been approved for your pet.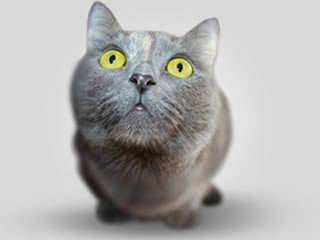 We are always here to help!  If you need other recommendations, just call us at (317) 999-7873!